I was going to have a blogging-free day today, given the
bank holiday,
but having read thoughts of Unite boss Len McCluskey on Labour MPs undermining Jeremy Corbyn, I felt compelled to say something.
The first thing is that demanding Labour MPs to show more loyalty to their leader is a bit like calling for Count Dracula be put in charge of the local neighbourhood blood bank.
Because, as everyone knows, Jezza was a serial rebel throughout his 32 years as a backbench MP who voted against his own party line over 500 times, as well as being a persistent thorn in the side of every Labour leader in recent memory including: Neil Kinnock, John Smith, Tony Blair, Gordon Brown and Ed Miliband.
So, Len is re-writing history in similar fashion to Ken Livingstone who caused the whole row in the first place by claiming 'Hitler was a Zionist' and that a person can only be anti-semitic if they hate all Jews across the world, not just those living in Israel.
Now Len's comments are extensively reported in The Guardian (see link below), yet strangely the Unite boss has nothing to say about Comrade Livingstone's behaviour or the extremely stupid and hateful things the former London mayor said.
Instead McCluskey lashes out at named Labour MPs and even has the brass neck to attack Liz Kendall's 4.5% share of the vote in Labour's leadership election, when Len managed to attract only 6.8% of union members who voted in Unite's leadership election.
Still it's nice to see the Corbyn style of 'kinder, gentler politics' at work.
http://www.theguardian.com/politics/2016/may/01/jeremy-corbyn-len-mccluskey-attacks-treacherous-labour-mps
Corbyn ally Len McCluskey attacks 'treacherous' Labour MPs



Union leader accuses Labour figures of setting 'false traps' for leader, as polls suggest party is on course for worst local election results in 35 years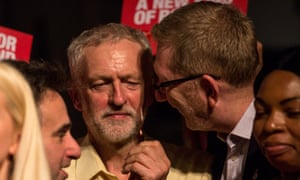 Jeremy Corbyn pictured with Len McCluskey during his leadership campaign. Among those accused by McCluskey are Liz Kendall, Michael Dugher, Ian Austin and Wes Streeting. Photograph: Rob Stothard/Getty Images

By Rajeev Syal and Heather Stewart

A key ally of Jeremy Corbyn has accused MPs of employing treacherous tactics designed to undermine Labour's leader, as an analysis of the latest polls by a leading academic suggests the party is on course for its worst local election results for 35 years.

Len McCluskey, the head of the UK's biggest union, Unite, claimed former shadow ministers Liz Kendall and Michael Dugher, Gordon Brown's former aide Ian Austin and newly elected MP Wes Streeting have made interventions meant to damage Corbyn.

McCluskey's intervention comes as a new projection conducted for the Guardian shows that Labour is on course to lose 175 council seats in Thursday's elections.
Psst - pass it on! (16/09/11)
Psst, pass it on!
Len McCluskey of Unite has a smaller 'mandate' than Dave Prentis of Unison see post dated 14 September 2011 - People in Glass Houses
Dave has a big whopper of a mandate compared to Len anyway and depending on how you count the votes.
But Dave's 11.2% puts Len's 6.8% completely in the shade and here's a earlier post from November 2010 which explains why.
Now I don't think that size really matters unless people go around making complete dicks of themselves by saying that they've got a bigger mandate than anyone else.
Because normally that's not true and men tend to be a poor judge of size, or so my women friends tell me anyway.
"Election Mandates (24 November 2010)"
Len McCluskey election as the new leader of Unite has prompted lots of Guardian readers to comment on the newspaper's web site.
Most people registering a view are rightly unimpressed at the poor turnout.
Less than 16% of the union's membership participated in the ballot which does raise serious questions about trade union democracy.
If 84% of the electorate cannot be bothered to vote something is clearly wrong and union leaders should do more than just shrug their shoulders and move on.
Some commentators also attack Len McCluskey, on a personal level, which is clearly rather unfair.
Len has still been elected after all he just needs to avoid getting too carried away.
Because any over the top attack on the government and its mandate to govern will sound completely ridiculous.
From a union leader elected with the backing of only 6.8% of Unite's 1.5 million members.